Inspection Robot
Inspect the lower surface of the bridge using the wire moving inspection robot.
We are developing a bridge inspection robot that can contribute to improvement of efficiency of inspection work, labor saving, and economic improvement.
We are proposing a wire moving robot that can prevent third party damage caused by "fall" and can handle various bridge formats.
Features of Inspection Robot
The inspection robot adopts a wire type which has high versatility and extremely low risk of falling, in order to make it possible to apply to a variety of bridges and to be able to perform secondary tasks such as hammering test It is.
Wire moving robot which can move three-dimensionally the lower surface of bridge
The inspection work can be carried out with a minimum number of people of 2
Stable movement and image shooting under strong wind
Utilizing large payload, sensor and camera can be installed since it is fixed to the bridge with 8 wires, the risk of falling is low even if the power supply is lost
By installing the robot arm, it can be deployed to various inspection work such as hammering sound, cleaning, simple repair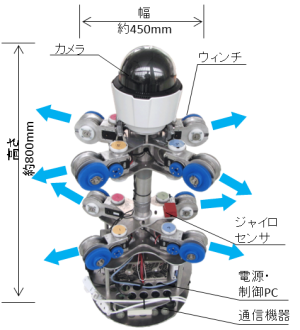 〈関連論文〉
ワイヤ移動式橋梁点検ロボットシステムARANEUSの開発と運用土木学会論文集F4,Vlo.73,No.1,26-37,2017