Bridge Weigh-In-Motion
What's B-WIM?
B-WIM (Bridge-Weigh-In-Motion) is a technology that utilizes the dynamic strain of the instrumented bridge in order to measure the weight of a travelling vehicle.
Vietnamese version document
Importance of grasping traffic load
In efficient maintenance of bridges and roads, not only traffic, it is extremely important to understand the characteristics of the traffic load.
Knowing weight and number of passing vehicles helps grasp information of damage to the road structure.
In B-WIM, it is possible to measure the weight of the vehicles traveling on a bridge in real time by using the bridge as weighing scale.
Mechanism of B-WIM
Three instrumented strain gauges per lane
Strain gauge is installed at girder or deck bottom (Installation on pavement is not needed)
Calibration is implemented by using a passing vehicle with known weight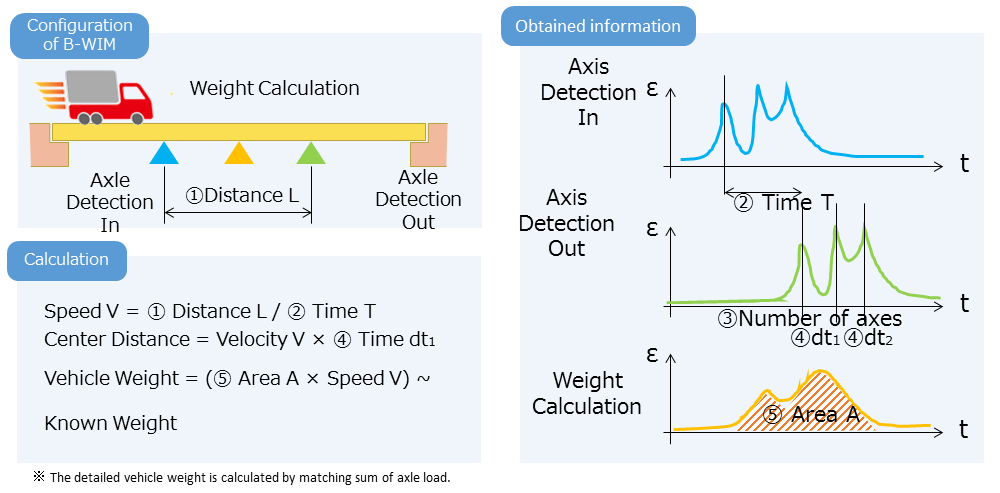 Implementation Flow
We offer "One-stop solution" from implementation plan to analysis results
Features of TTES B-WIM
Proposals on sensor arrangement and processing method based on past experience
Algorithm repeatedly improved by actual bridge data processing
‐Vehicle detection
‐Noise processing
‐Eliminating the influence of adjacent lanes
‐Correction according to transverse travel position
High-speed processing
Real-time computing system
Flexibly customized to suit demand
Applicable Conditions
Bridge condition
Applicable: Steel-girder bridge (including steel deck)
Requires consideration: RC T girder, PC bridges → depends on stiffness
Suitable conditions
Vehicle speed is constant
There is no lane change
Simple girder (possibly depending on the waveform in continuous girder)
Not applicable
Congested section ※ However, traffic jam can be detected
Application period
One week of continuous data with no holidays and events is recommended